SIRKALI HOME PAGE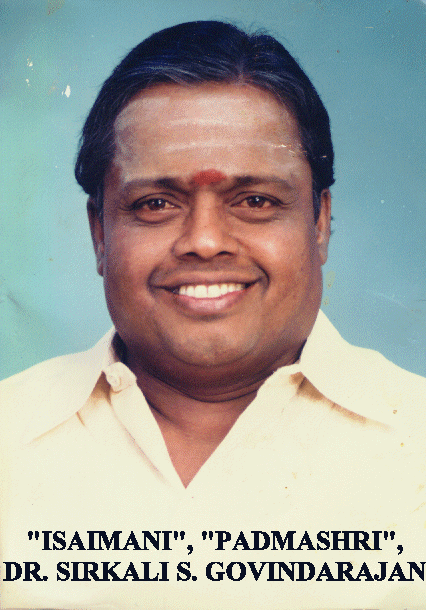 Dr. Sirkali Govindarajan, the great singer with the golden voice, is respected by millions all around the globe as a maestro of Indian Classical, Devotional and Film music, with an excellent voice range and tonal purity. His ringing voice, rendering the songs with expression and expertise, with clear pronounciation of the language, and with classicism intact, was his speciality. He is regarded as an embodiment of humility and an excellent humanitarian among his contemporaries. His film songs carried a speciality of its own, which are cherished by his fans popularly as "Sirkali's songs", even today! This 'principled singer' has thousands of songs which add honour to Indian music.
Here's what's new on this site:
Watch the latest video of Dr. Sirkali Siva Chidambaram
Read about the 'Pavazha Vizha' function for Dr. Sirkali Govindarajan
Check out this autographed photo of Dr. Sirkali Govindarajan
Visit Drs. SIRKALIS YOUTUBE Page and enjoy live concerts and much, much more!!!

Watch Kalaignar TV's Special 'RASIGAN' Program dedicated to "Padmashri" Dr. Seerkazhi Govindarajan. Dr. Siva Chidambaram is the Guest of Honor!

Read NEW ARTICLES and see NEW PHOTOS in UPDATES Page

Listen to "Padmashri" Dr. Siva Chidambaram's new film songs
See photos of Dr. Siva Chidambaram with Hon. Perarignar Anna, Hon. Dr. MGR, Hon. Dr. Kalaignar, Hon. Dr. Jayalalitha, Hon. Prime Minister Rajiv Gandhi, with his mother and exciting closeups for blowups.
Get the latest news and information on Dr. Siva Chidambaram's recent musical accomplishments
Created on April 12, 1997
Last updated: July 2010