UPDATES ON DR. S. G. SIVA CHIDAMBARAM
This page supplies you with the latest information on 'Padmashri' Dr. Sirkali G. Siva Chidambaram MD.
---
---
Dr. Sirkali Siva Chidambaram accompanied by Thiru. Valayapatti A. R. Subramaniam -- Click here to see the article.
---
Dr. Sirkali Siva Chidambaram is in Sri Lanka on a Concert Tour. Click HERE TO READ the article and click on the photos below to ENLARGE:
---
An autographed photo of Dr. Sirkali Govindarajan: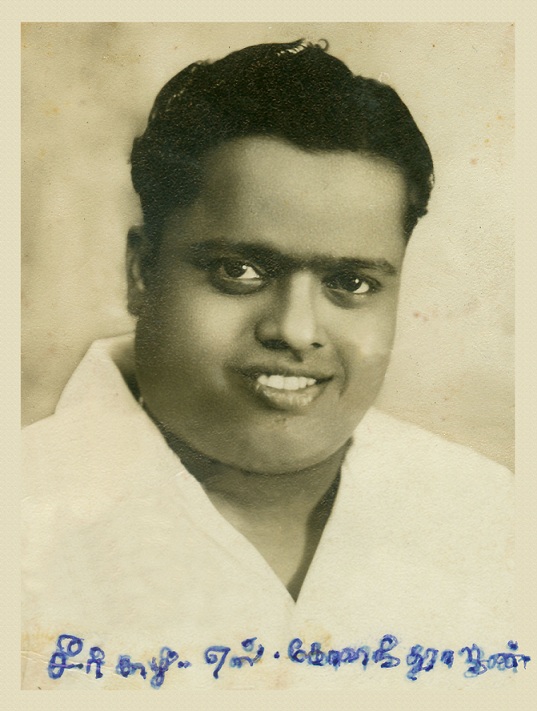 ---
Here are 2 more recent articles:

The Hindu -- a write-up about Dr. Siva Chidambaram
Nakkeeran -- a write up on Isaimani 75 Pavala vizha
---
Isaimani Pavala Vizha
Click to see the invitation! (Part 1 | Part 2 | Part 3)
The Pavala Vizha or the 75th Birth Anniversary of Isamani Padmashri Dr. Seerkazhi Govindarajan was celebrated by the Global Isamani Family in the prestigious hall of the Music Academy (Sangeetha Vidwat) on January 19th, 2010. It was a fitting tribute to a singer who received his awards for his Sangeetha Vidwat in that very same Hall in his early years. Isaimani's Music reverberated the hallowed halls.
The Chief Minister Dr. Kalaignar gave a very nostalgic touching speech about Sirkali. He remembered how Sirkali sang the very first song he had written for the movies. He recollected a time when singing in other languages was the way and singing in Tamil was considered 'sillarai' or mere small change. Also, it was Isamani who brought Tamil Isai from "Kallarai to Manavarai" meaning from the jaws of death to a beautiful life. He said it would have been better to celebrate it with Isaimani - but he is happy that the all of the people here and in the whole world are all part of the Isaimani family and celebrating his life.
Central Shipping Minister Thiru. G.K.Vasan said that Isaimani had his own style and had done true service as the Secretary of the Thyaga Bramha Mahotsava Sabha in Thiruvaiyaru. He said Isaimani will live as long as the world lives. Thavathiru Kunrakudi Adigalar and Tmt. Desa Mangayarkarasi also spoke of the virtues of Isaimani.
A software named 'Isaimani' that could translate Tamil into 10 European languages and could be used on the cell phone, designed by an ardent fan of Isaimani, Mr. Murthy from Switzerland, was released by Dr. Kalaignar.
The 5 CD set of songs of Isaimani named ' Legends' from EMI was released by Thiru. G.K.Vasan.

The Function began with a welcome speech by Dr. Sirkali Siva Chidamabaram and an Audio-Video Presentation of Isaimani Life and Acheivements - put together by their grandchildren Dr. Balaji P. Sirkali, USA, Er.S. Santosh Murugan, BE, (MBA - UK), Er. S.Vaishnavi (B.Tech) and Er. S. Varun Govind (B.E.). The vote of thanks was given by daughter Dr. Gnanavalli Pradhaban. Dr. Sudha Seshayyan compered the function.
Read more about the Pavala Vizha Function in the News Articles below (click on the names to view):
---
Dr. Sirkazhi Siva Chidambaram visits Russia
The Goverment of India sent Dr. Siva Chidambaram and others on a Goodwill Tour to Russia in December 2009. Read about the experience below:
---
Here are a few short articles & photos in newspapers and magazines (posted as images--Please click on the link to view the article):
---
Dr. Sirkali Siva Chidambaram was presented the "Padmashri" award by the President of India Hon'ble Pratibha Patil on May 10th, 2008 at Rashtrapati Bhavan. Click here to see the photo and video.
---
BIOGRAPHY BOOK ON DR. SIRKALI GOVINDARAJAN:
Dr. Siva Chidambaram has written a biography book in Tamil on his father, Dr. Sirkali Govindarajan. This book is being published by Manivasakar Pathipagam of Chennai (Phone: (044) 25361039).

On November 27th, 2002, the President of India Dr. A.P.J. Abdul Kalam accepted the first copy of the book from Dr. K. Venkatasubramanian, Member, Planning Commission and dedicated the book to the nation. This event took place at Rashtrapathi Bhavan with the presence of Dr. Siva Chidambaram (the author) and Dr. A. Shanmugasundaram, Chancellor, Vinayaka Missions Research Foundation.

Dr. A.P.J. Abdul Kalam, President of India, presented a 'Ponnaadai' to Dr. Siva Chidambaram for his accomplishments in medicine and music.
---
RECENT AUDIO RELEASES:
Music for Meditation and Relaxation Series:--
1. Gayathri Manthram and Ishta Devatha Gayathris - Dreams Audio Release
2. Om Nama Sivaya, Sivaya Nama Om - Dreams Audio Release
3. Thennadudaiya Sivane Potri, Ennaatavarkum Iraiva Potri - Dreams Audio Release
4. Omkara Pranavam - On Production with Dreams Audio
5. Vel Murugan - A collection of songs on Lord Muruga, lyrics & tuned by Anban - Vel Murugan Audios
6. Thirupathi Selvom - A collection of songs on Lord Venkateswara, tuned by T. R. Paapa, lyrics by Ulundurpettai Shanmugham - Vaalai Audios
7. Muruganin Thaipoosam - A collection of Murugan songs, lyrics by Trichy Bharathan, tuned and sung by Dr. Siva Chidambaram, Santosh Murugan and Varun Govind (sons of Dr. Siva Chidambaram), orchestration: Rajini - On Production
8. Kondavil Sivagami Amman Songs - Songs on the deity of Eelam, lyrics by Enuvil Veeramani Iyer, tuned and sung by Dr. Siva Chidambaram, orchestration: Rajini - Kondavil Sivagami Amman Temple Release
9. Vaishnava Thirupathi - Songs on Venkatachalapathy, lyrics by Duruvan, music by Ganesh Ramanna and sung by Dr. Siva Chidambaram.
OTHER AUDIO RELEASES ON VARIOUS SUBJECTS MAY BE ORDERED FROM HMV SAREGAMA, INDU MUSIK, SANGEETHA AND ITS DEALERS WORLDWIDE.
---